Join us in Hobart this September for the 2019 Tasmanian Greens State Conference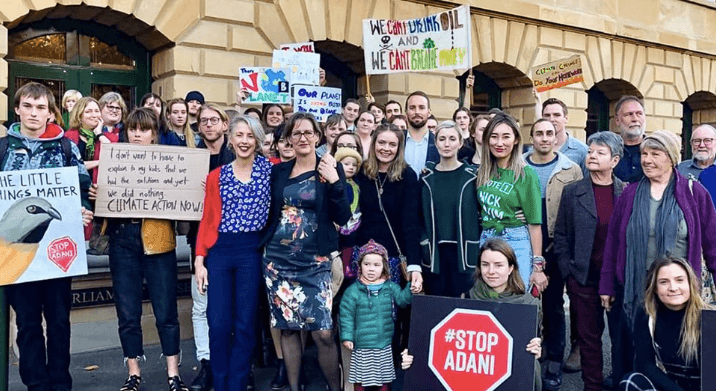 At this year's Tasmanian Greens State Conference, we'll be celebrating the Federal Election campaign to re-elect the Tasmanian Greens to the Australian Senate, and we'll be looking ahead towards developing and strengthening the Party further to take on the challenges coming in the immediate face of a Climate Emergency.
Further information pertaining to the agenda of State Conference 2019 and how you can still submit proposals, motions, and workshop ideas via your local branch and action groups is available in the dedicated Greenhouse pod.
We want to improve access for all Greens members and supporters at this year's State Conference. If you have questions about the venue or specific access requirements, please get in touch and we'll do everything possible to accommodate you.

We acknowledge that this event takes place on the land of the Muwinina people, that sovereignty was never ceded and pay our respects to Elders past, present and future.
21st September, 2019 9:00 AM through 22nd September, 2019 3:30 PM
181 Macquarie Street
Old Hutchins School Building
HOBART
TAS
7000
Food on the day
Lunch & morning/afternoon tea for Saturday
$ 32.50
Lunch & morning/afternoon tea for Sunday
$ 32.50
Lunch & morning/afternoon tea for Saturday - Concession
$ 30.00
Lunch & morning/afternoon tea for Sunday - Concession
$ 30.00
Meals for both days
$ 65.00
Meals for both days - Concession
$ 60.00
No meals (Waged)
$ 10.00
No meals (Unwaged/Young Greens)
$ 0.00
Dietary requirements
Vegan
Vegetarian
Gluten free
Other (Please get in contact)
Optional donation
A generous helping hand
$ 100.00
Helping out
$ 50.00
Chipping in because every bit helps
$ 20.00
I can't donate right now
$ 0.00
Attendance at conference
Saturday
Sunday
Quiz Night